High Speed Continuous Document Scanner

Continuous Document Scanner
NeuraScanner is a high-speed, Continuous Document Scanner, ideal for scanning rolls or fanfold paper and other media.  Built for flexibility and robustness, the NeuraScanner can scan documents of any length at speeds up to 10 inches per second. The NeuraScanner creates compressed TIFF images of color, black & white, or grayscale, capturing and preserving your documents forever.
With NeuraScanner's delicate scan mode, you can safeguard and archive even your most fragile documents.  NeuraScanner was designed with older legacy media in mind and works with originals printed on paper, mylar, or even photographic film.  NeuraScanner can be used to scan strip charts, telemetry plots, logs, maps, photos – all types of long documents.  Any continuous media from 1-12″ wide is easily preserved to digital format in a matter of minutes.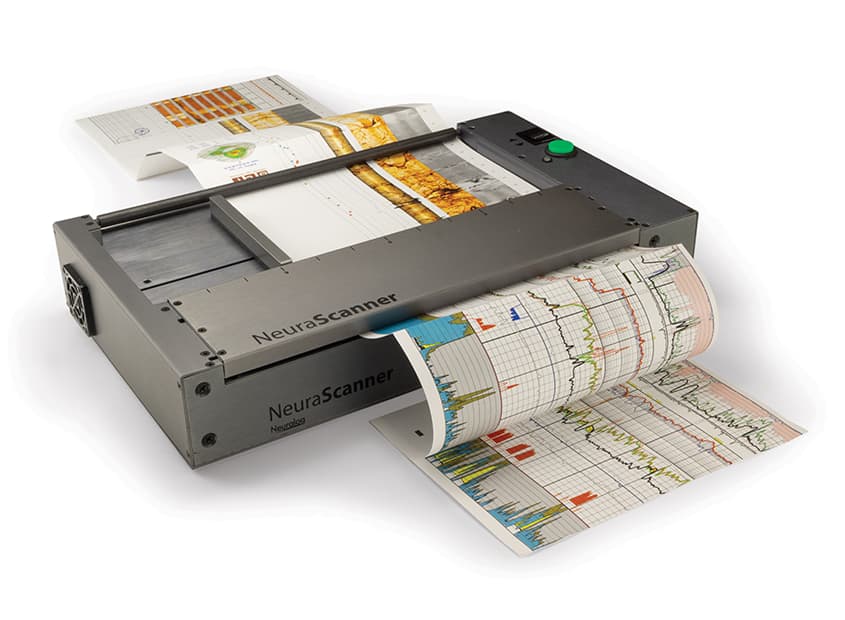 Use NeuraScanner and NeuraView for scanning and viewing the following document types.
EKG Strips
Telemetry Strips
Well Log Runs
Piano Rolls
Legal Documents
Broadstreet Newspaper
Any long, rolled or fanfold media from 1-12 inches wide, needing to be scanned with a continuous document scanner
Continuous Document Scanner Software
For viewing your scanned archives, NeuraScanner includes the NeuraView software. NeuraView readily loads and displays even very largest scanned images, up to the Windows limitations of 2 GB in size.  NeuraView allows control of image settings, including brightness and detail, for grayscale or color images.  Enhance your scanned images, or if needed, change the number of colors or resolution to reduce their size.  Convert color images to grayscale or black-and-white, all without the need to rescan.
With NeuraView you can load and view batches of scanned images for data comparison.  Unique features such as Vertical View and Lock Scrolling give you the ability to correlate the information in multiple images in one window.  
NeuraView software is the perfect companion for the NeuraScanner or any other continuous document scanner and can be used to view images of other formats and from other scanning sources.  An upgraded version of NeuraView is also available that allows detailed image editing such as color isolation and updating, image cropping and stitching, and image annotations.  The NeuraView included with NeuraScanner is available for unlimited use as long as connected to the scanner. 
"The new NeuraScanner makes paper fly! I was able to scan my logs at over 10 inches/sec.
Finally a truly practical way to capture my logs." 
Houston, Texas
Overview
NeuraScanner is the world's only continuous document scanner designed specifically to scan unlimited documents of any type, whether slow careful scanning of fragile documents is needed or high-speed bulk batch scanning is required.
Traditionally used by geologists as a well log scanner, NeuraScanner can also be used to easily capture any type of strip charts or telemetry data of any domain.  With the same compactness that fits in a standard computer case, and weighing under 10 pounds, the NeuraScanner can be carried anywhere – office, customer site, or even home. Designed with its own custom programmable microchip and a unique optical sensor created for specifically for unlimited-length scanning,  this robust piece of equipment truly represents state of the art in continuous scanning technology.
If your business includes scanning any type of lengthy documents, the NeuraScanner is a must. This scanner is unique in its ability to quickly capture and preserve your valuable hardcopy data of any length and form.
Details
Specifications