High Speed Quality Well Log Scanner

NeuraScanner is a high-speed, color continuous well log scanner. Built specifically for well logs, the NeuraScanner can scan logs up to 10 inches per second. With three color settings, color, black & white, and grayscale, capturing and preserving your logs has never been so efficient.
Digitizing your paper well logs is an essential business function in the E&P industry. With NeuraScanner you can safeguard your archive of paper-based logs. It can also be used to scan maps, core photos, outcrop descriptions, reports, and other data commonly found in the E&P environment.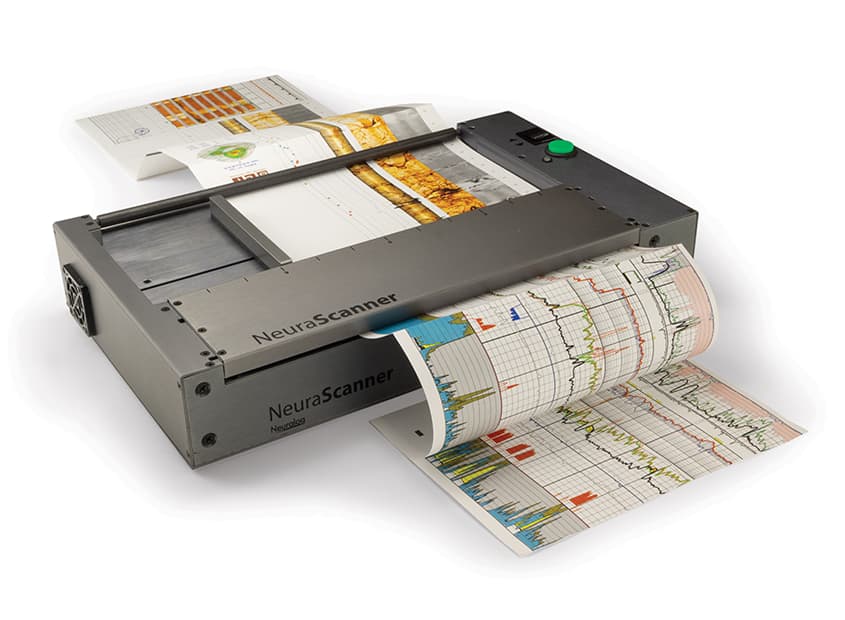 The included NeuraView software allows on-the-fly control of image settings, including brightness and detail, for grayscale or color logs. The NeuraScanner easily works with originals printed on paper, mylar, or even photographic film up to 12″ wide and any length.
For more delicate or poor original logs, a slower speed and smooth paper handling are built-in, ensuring even the oldest and longest documents flow through the NeuraScanner to produce crisp raster images. 
"The new NeuraScanner makes paper fly! I was able to scan my logs at over 10 inches/sec.
Finally a truly practical way to capture my logs." 
Houston, Texas
Overview
The world's only scanner designed specifically to accomodate well logs just got faster, clearer and lighter weight.
Neuralog introduces its next generation continuous well log scanner. With the same compactness that fits in a standard computer case, and weighing under 10 pounds, the NeuraScanner can be carried anywhere – office, customer site, rig, home. Designed with a its own custom programmable microchip and a unique new optical sensor created for Neuralog, specifically for capturing well logs, NeuraScanner truly represents state of the art in continuous scanning technology.
If your business includes scanning well logs, the NeuraScanner is a must. This scanner is unique in its ability to quickly capture and preserve your valuable well log images.
Details
Specifications
Evaluate and display all available geological data to efficiently present the total play.