Automated Well Log Digitizing and Preparation of Log Data

NeuraLog is the most advanced and widely used automated well log digitizing system in the world today. NeuraLog transforms scanned images into usable digital data. Its reliability and quality control tools increase productivity by empowering the log analyst to control the quality and availability of well log data. Automated tracing enhances productivity by streamlining workflows to create reliable data for time-critical projects.
Unique quality improvement, editing, and validation assure that your digital log data, regardless of vendor or quality, can be corrected and verified to meet your standards. For those working with raster well logs, NeuraLog can create straightened and depth-registered images for your geological applications.
Read more about NeuraLog version 2020 at our blog post titled: "A Superior Workflow Experience."  Find out about the latest release, NeuraLog 2022, and get information on NeuraLog's workflow improvements.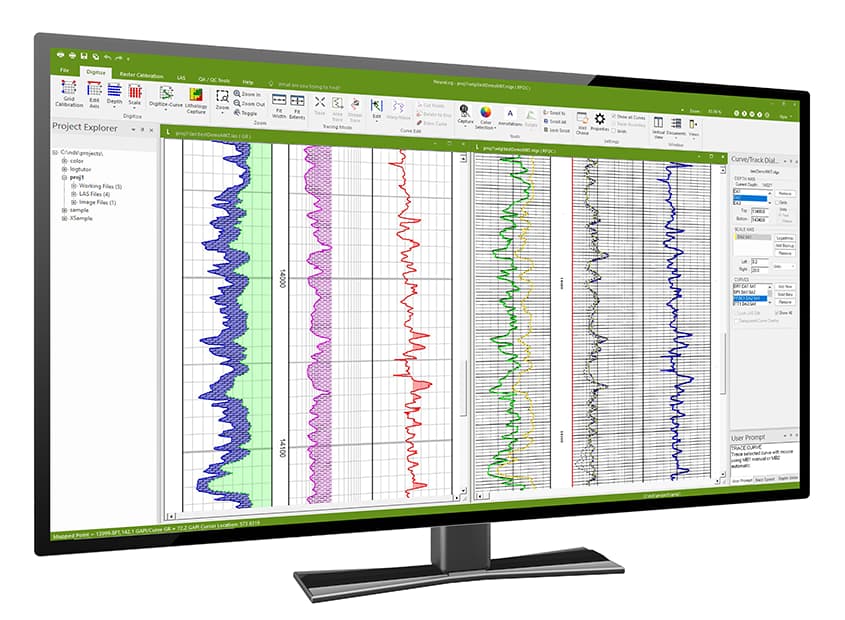 Project Explorer breaks down project files into 3 categories:
NeuraLog addresses digitizing problems such as quality degradation and variable data formats with updated automation tools to ensure data is preserved for use with current and future projects to rigorous company and industry standards.
Our Project Explorer feature allows you to navigate and search in all projects without having to leave the project you're currently working in. It lists all the projects in a tree and groups them so users can quickly explore all the files at once, without having to commit to changing into a new project.
Our new Smart Ribbon Technology allows the Project Explorer to "know" what file type you have opened, and automatically switch toolbar tabs according to the file type. This new technology gives users access to the workflows and tools that are for those file types without switching manually.
Our new version of NeuraLog is designed to help you shorten the learning curve, improve productivity, and streamline workflows to accurately digitize well logs, and enable you to reach a decision faster based on sound, quality-controlled digital data.
"NeuraLog was our discovery of the "missing link" for log data input into a pore pressure and fracture gradient prediction program. Log data can be easily digitized, exported into a LAS file, and interpreted in just a few hours. Turnkey drilling demands precision. NeuraLog is a crucial component of our technical tool set."
J. Greve, Project Manager
Log Digitizing
Digitizing
Interpreting legacy logs can pose many challenges, such as degradation from age and handling, which results in information loss and variable data quality.
Automated Curve Tracing – Neural network algorithms trace curves with speed and accuracy. There are many different curve algorithms available to account for many digitizing cases.
Built-in grid model to account for curves crossing the grids
Auto-stop error detection
Interactive curve editing with immediate resume tracing


Lithology Data Capture – Utilize data from mud logs and lithology logs.
Capture lithology and descriptions from hand-drawn mud logs
Unique step curve capture sample rate (ROP, GAS)
Log annotation to mark important data such as zones, faults and reservoirs


Interactive Log Display – NeuraLog displays your log raster image and traced curve vectors directly on the computer screen, providing immediate feedback.
Interactive tracing tool and tracing types Error correction at any point in the tracing process
Automatic scrolling through the log during curve trace
Light Table overlay of LAS and Rasters


Unlimited Backup Scales – NeuraLog's automated tracing functions work on unlimited backup scales, automatically patching together the different sections of the curve for streamlined curve output.
Image Warp and Stretch Correction – NeuraLog corrects for warp and stretch, a common problem in poor log images, automatically from depth grids to produce quality log images and digital data.
Log Data Preparation
Specifications
Evaluate and display all available geological data to efficiently present the total play.