Integrated Geological Evaluation

NeuraSection is the only geological interpretation system available with the image quality to truly support raster and digital well log correlation, cross-section creation, and analysis. NeuraSection uses your existing log images and digital files and autoloads them to the database or format you need to become your integrated interpretation solution.
Read more about NeuraSection on our blog: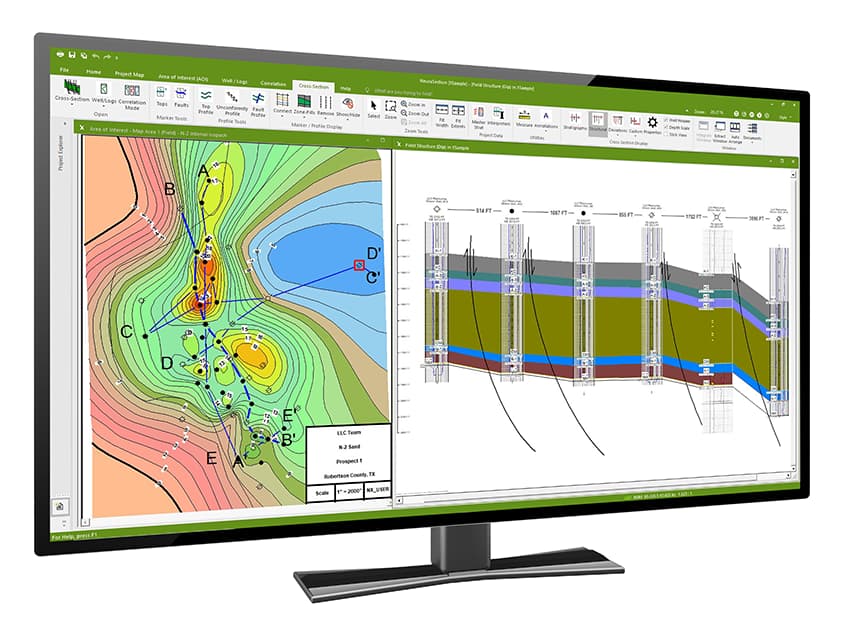 NeuraSection allows you to evaluate and display all available geological data. Users can visualize, analyze and create presentation logs, maps, cross sections, and montages, as well as delineate reserves, in a process that maximizes data resources and minimizes the time required to create and present the total play concept.
"NeuraSection is the Desktop Interpretation Tool that geologists have been waiting for… NeuraSection saves time and cuts costs, while creating superior, presentation quality products. …The guys at Neuralog have done a great job!"
F. Reid, Providence Oil Company


Log Correlation
Contour Mapping
Cross Sections
Neuralog Desktop
Specifications
Log Correlation
Correlation
Log Correlation can be done in log-to-log mode or in the cross section. Any depth calibrated log is ready for correlation with manual picks or auto-posting of imported picks.
Flexible Well Log Correlation Options
Click to correlate down the stratigraphic column or across multiple logs
Optionally correlate multiple wells simultaneously using even thickness model
Correlate in measured depth or true vertical depth
Align well log views on Structural or Stratigraphic datums
Switch between correlation in cross sections and log-to-log, as needed
Mark formation tops and bases with "lock to depth" option
Add fault markers with type and missing or repeat sections


Individual logs may be marked and annotated to create a show log for your working reference, final presentation, or inclusion in the montage.
Show/Work Log Displays
Display tops, bases, faults, etc.
Create composite logs using multiple raster/LAS logs and annotate to make type logs
Display show, perforation, core, IP, DST data, production data tables and cumulatives
Post formatted detailed user text
Place Windows bitmap and metafile graphics; library lithology, engineering, and geology graphics included
Annotate with user-defined freeform drawing/filling


LAS Well Log Presentations
Create custom templates for track, scale, color, line type, backup, etc.


Counting Tool
Click and drag over the interval for instant counts
Create lithologic, fluid or user-defined interval counts
Color and pattern fill intervals
Auto-post counted interval data on maps and export for other users/applications


Well Diagram
Shows log types and depth intervals for one or many wells as selected
Contour Mapping
Cross Sections
Neuralog Desktop
Specifications