Integrated Geological Evaluation

NeuraSection is the only geological interpretation system available with the image quality to truly support raster and digital well log correlation, cross section creation and analysis. NeuraSection uses your existing log images and digital files and autoloads them to the database or format you need to become your integrated interpretation solution.
Read more about NeuraSection on our blog: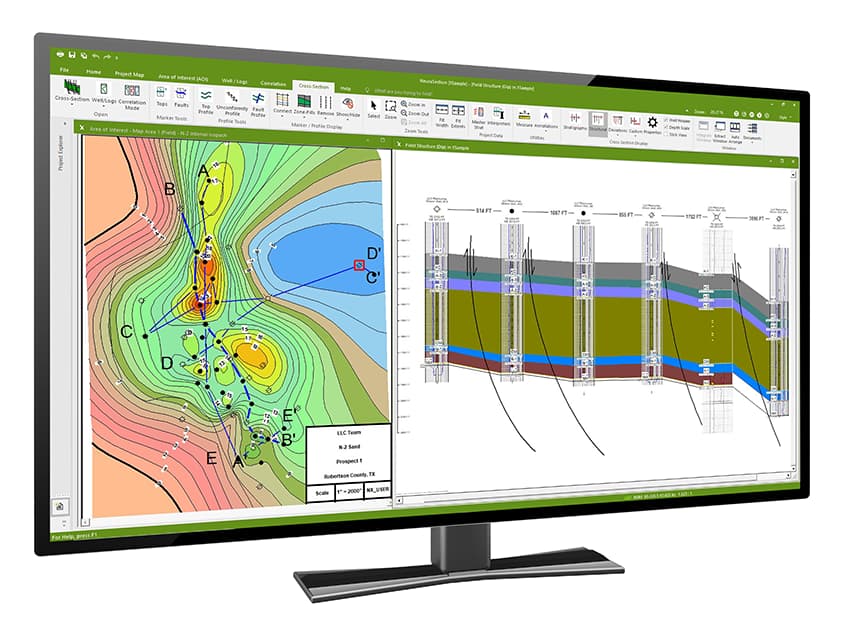 NeuraSection allows you to evaluate and display all available geological data. Users can visualize, analyze and create presentation logs, maps, cross sections and montages, as well as delineate reserves, in a process that maximizes data resources and minimizes the time required to create and present the total play concept.

"NeuraSection is the Desktop Interpretation Tool that geologists have been waiting for… NeuraSection saves time and cuts costs, while creating superior, presentation quality products. …The guys at Neuralog have done a great job!"
F. Reid, Providence Oil Company


Log Correlation
Correlation
Log Correlation can be done in log-to-log mode or in the cross section. Any depth calibrated log is ready for correlation with manual picks or auto-posting of imported picks.
Flexible Well Log Correlation Options
Click to correlate down the stratigraphic column or across multiple logs
Optionally correlate multiple wells simultaneously using even thickness model
Correlate in measured depth or true vertical depth
Align well log views on Structural or Stratigraphic datums
Switch between correlation in cross sections and log-to-log, as needed
Mark formation tops and bases with "lock to depth" option
Add fault markers with type and missing or repeat sections
Individual logs may be marked and annotated to create a show log for your working reference, final presentation, or inclusion in the montage.
Show/Work Log Displays
Display tops, bases, faults, etc.
Create composite logs using multiple raster/LAS logs and annotate to make type logs
Display show, perforation, core, IP, DST data, production data tables and cumulatives
Post formatted detailed user text
Place Windows bitmap and metafile graphics; library lithology, engineering, and geology graphics included
Annotate with user-defined freeform drawing/filling
LAS Well Log Presentations
Create custom templates for track, scale, color, line type, backup, etc.
Counting Tool
Click and drag over the interval for instant counts
Create lithologic, fluid or user-defined interval counts
Color and pattern fill intervals
Auto-post counted interval data on maps and export for other users/applications
Well Diagram
Shows log types and depth intervals for one or many wells as selected
Contour Mapping
Mapping
Mapping for various types of geological maps including Top of Formation, Thickness, Net Isopach, etc.
Auto Contouring
Generate contours for multiple maps within the same "Area of Interest" AOI
Add gradient or discrete fills to the contours to enhance presentation mapping
Real-time Editing
Full editing control of computer generated contours and points
Add your interpretation to computer generated results
Manually add and edit contours in your workspace for a more complete analysis
Maps
A reference map may be imported or created on-the-fly from well location data. Maps of your "Area of Interest" (AOI) can be created to post values, contour, calculate volumetric reserves and annotate for presentation.
Maps For Reference
Post well status and header information
Select wells from map to create cross sections
Display map image, geotiff or vector map layers
Apply well filter to remove unwanted wells from view
Maps For Evaluation
Work with multi-level map management system based on stratigraphic column
Post top, net gas, sand, or any rock or fluid parameter you have picked
Create contours using NURB technology
Create simple faults or fault polygons using optional throw, heave, and dip calculations
Create displacements across faults
Display single maps or overlay several maps for referral and integration
Calculate volumetric reserves from structure or stratigraphic maps and create reports
Cross Sections
Cross Sections
Geological Cross Sections are an integral part of NeuraSection, and any number of structural or stratigraphic cross sections can be created and saved.
Well Log Displays Normalized
Display logs with English or metric depth scales in any vertical scale and width, regardless of original
Deviated Wells Displayed in Cross Section
Enter geological survey information manually or import from another data source
Display corrected logs in True Vertical Depth
Display log images and LAS along wellbore path, even for horizontal wells
Cross Section Views Automatically Generated
Create cross section templates that control every aspect of the display
Switch between Structural and Stratigraphic views
Rehang on any Stratigraphic Datum to create new view
Space wells equidistant, geo-proportional or custom
Swap order of logs or order of wells
Composite Log Presentations for Wells with Multiple Logs
Drag and drop logs in desired order in the cross section
Merge digital and raster data
Crop out undesired tracks
Merge multiple log runs into the same presentation
Faults and Top Profiles
Shape profiles and use optional contour intersections from the evaluation maps
Create custom profiles with colors, fills, patterns and line styles
Connect fault profiles to fault markers in the wells or draw fault profiles independently
Break top profiles with faults and create displacements across the faults
Restore missing sections in wells for stratigraphic cross section displays
Quality Improvement
Quality Improvement is a part of all Neuralog products. In NeuraSection this is primarily achieved through the integration with the full Neuralog Professional Suite where data is captured and validated. There are some critical quality control functions within NeuraSection as well.
Well Diagram shows log types and depth intervals for one or many wells to locate missing data
Well spots are color coded in your map to indicate wells with missing logs
Well Filter lets you search on and inspect wells of specified criteria
Log List View tracks which logs have been calibrated and which have attributes set
Bubble Map shows you how well your interpretation matches top picks
Line of Intersection shows you how well your contour map matches the interpretation in the cross section
Montage
NeuraSection has full montaging capabilities to complete your evaluation process. Presentation quality montages can be created with your geological data to sell your prospect play. Logs, maps and cross sections can be added to the montage, along with any other windows graphics such as core photos, spreadsheets, well reports, etc. "Drag-and-drop" placement makes is easy to add documents and images to the montage. Once complete, the montage can be sent to any printer/plotter or saved as TIFF or JPEG files for inclusion in other Windows applications like Word, PowerPoint or Outlook email.
Neuralog Desktop
ESRI GIS-based Interface
Start your evaluation from an easy to view GIS based interface. The interactive display allows users to select logs from wells displayed on the map layer and quickly correlate logs or create cross sections.
Display and open cross sections, AOIs and wells from any NeuraSection project
Area tree for quick well and well log recognition
NeuraSection toolbar is integrated to allow users to quickly create or edit projects
Manage projects and well logs across your corporate workspace.
Specifications