Reservoir Volumetrics and Map Digitizing

NeuraMap started as a map digitizing solution for geoscientists. This automated map digitizing solution works on hand-drawn, scanned map images and digital maps. Map digitizing is a critical component of working with map data for analysis as well as preserving map data for future projects. All relevant map data can be digitized and captured such as contours, faults, lines, points, and symbols. Whether you are digitizing your map data for further analysis or digitizing to preserve your data for future use, NeuraMap makes map digitizing easy for today's geoscientists.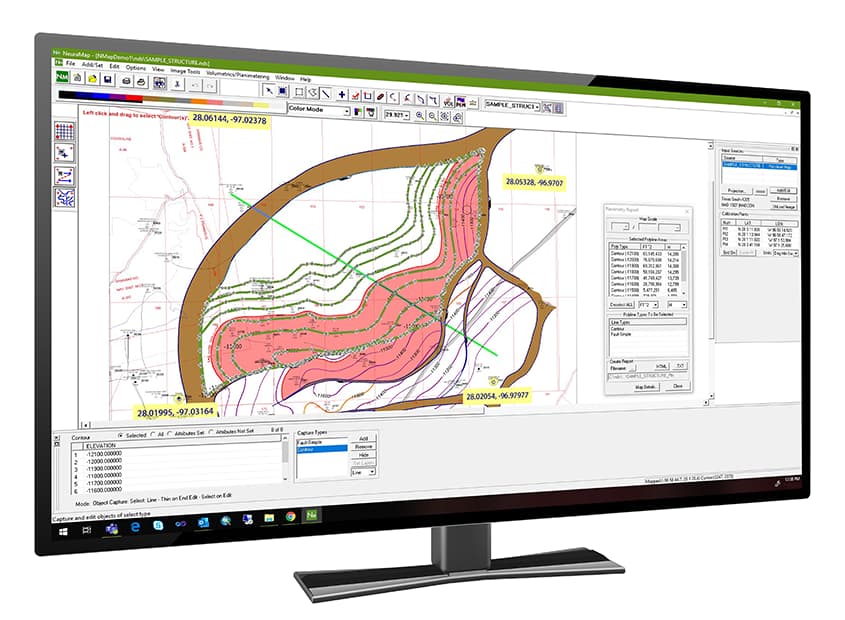 NeuraMap is the software of choice for computing Reservoir Volumetrics and Reserves. Use hand-drawn maps or import map vectors and instantly make Volumetrics and Reserves calculations on your reservoir. Standard formulas can be customized and any needed parameters input. Getting at this critical information has never been this easy.

"NeuraMap is a milestone to the map digitizing industry. It is an application of technology which increases speed and accuracy while decreasing physical stress. Because of its many features, it has become a work-flow shoe-in."
T. Gamwell, Phillips Petroleum
Map Digitizing
Map Digitizing
Automated Tracing
Neural Network Speed and Accuracy drive tracing algorithms for better-than-human tracing with highlighting of the contours for immediate feedback during the digitizing process.
Digitize hand-drawn, scanned or digital maps
Software Solution needs no tablet to digitize


Automated Map Digitizing
NeuraMap is a digitizing, transformation, and QC system that allows you to work with your paper maps, cross-sections, x-y plots, and other proprietary data.  Legacy data can be read by NeuraMap and overlaid on the original image for QC and editing.  Data can be re-projected to any of over 40 Map Systems and 400 Datums, or custom systems can be created.  Digital data can be exported, or your document can be marked with information such as calibration and projection for reprint.  Raster maps can be directly georeferenced and reprojected without digitizing.
Automated Data Capture
Line, curve, and point data captured.
Solid, dashed and boundary features are automatically traced.
Symbols can be automatically searched to create a huge variety of data that will meet your needs.
Image Processing Features
Color images are separated on the fly to aid in color-coded digitizing.
Printing
Maps in Image or Digital format can be printed with any Windows standard printer.
Mark up map with projection and calibration information and print.
Reproject map and print.


Scanning
Maps can be scanned with the NeuraScanner directly into NeuraMap to prepare for digitizing.
Distortion Correction
The effects of image skew and stretch are automatically eliminated through calibration.
Calibrate & Export
Reservoir Volumetrics
Specifications