17" Wide Color Well Log Printer/Plotter

NOTICE:  NeuraJet printer supplies will be discontinued effective March 15, 2022.  Please contact Neuralog for final supply purchase.  Neuralog now offers the Callisto Wide-Format Log Printer. 
NeuraJet17 is no longer offered.  Please see our latest Recommended Well Log Printers.
NeuraJet17 is a high quality wide format well log printer/plotter. This versatile inkjet well log printer/plotter is designed to print well logs up to 17 inches wide. With the combination of speed, quality and ease of use, the NeuraJet17 offers the best wide format log printing solution available for your organization. 
The NeuraJet17 is a fully integrated solution that requires no add-on software for automatically sensing top-of-form for accurate and precise printing. Backed by Neuralog's unmatched support, the NeuraJet17 is the industry standard for wide format well log printing. Why look any further?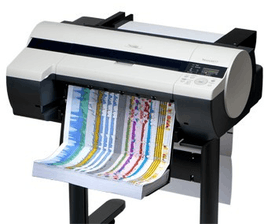 Engineered by Neuralog, the NeuraJet17 was designed and developed to print well logs. Unlike traditional inkjet printers, NeuraJet17 seamlessly handles your log prints without user interaction. Neuralog is committed to providing you with a reliable printing solution backed by a dedicated support staff.
NeuraJet17 is a total solution for well log printing.
"The NeuraJet17 is great for color logs, mudlogs and PDFs. Along with NeuraView software, it's resolved a lot of problems we had in the past. It's nice to have a color log printer that just works, for a change."
David Lange, Technical Coordinator – Geology, Apache
Overview
Applications
Specifications
Overview
NeuraJet17 delivers quality well log prints up to 17 inches wide every time. Whether you need presentation quality well logs prints or draft quality prints, the NeuraJet17 was completely designed with today's Geology and Geophysics offices in mind. The versatility of the NeuraJet17 is also ideal for maps, sections and all types of graphical renderings requiring high resolution accuracy and sharp color. Faster than any 17 inch wide printer/plotter on the market, wide format log printing has never been so easy!
NeuraJet17 is the first and only wide format log printer/plotter that seamlessly integrates the functions of continuous form feed, automatically sensing top of form, and cutting between print jobs. NeuraJet17 eliminates time wasted straightening or reloading paper to make sure you get that perfect log print. Automatic feeding, stacking and cutting functions ensure your log header is printed on the proper paper fold for every available paper size up to 17″ wide. Time is a valuable resource that should not be wasted straightening, reloading or stacking paper. A custom print driver is optimized for fast and efficient printing of well logs, which can be sent directly from your PC to the printer/plotter through a USB or standard network interface.
No additional software is needed! NeuraJet17 is bundled with NeuraViewPE for viewing, editing and printing your logs. For added value in printing your well logs, NeuraViewPE supports all industry standard formats, eliminating the need for multiple log viewers. NeuraJet17 in combination with NeuraViewPE is a complete solution that makes the job of printing your well logs a snap!
Applications
Specifications