Map & Well Log Viewing, Editing & Printing

NeuraView is the solution to display, edit, process, annotate and print large documents. NeuraView will read any standard TIFF, JPG, BMP, PDS, PDF, CGM, EMF, and LAS image (color, grayscale, or black & white) and will display that image in the view window. From this interface, you can scroll, zoom and rotate the image. Save and print any desired isolated portion of the image.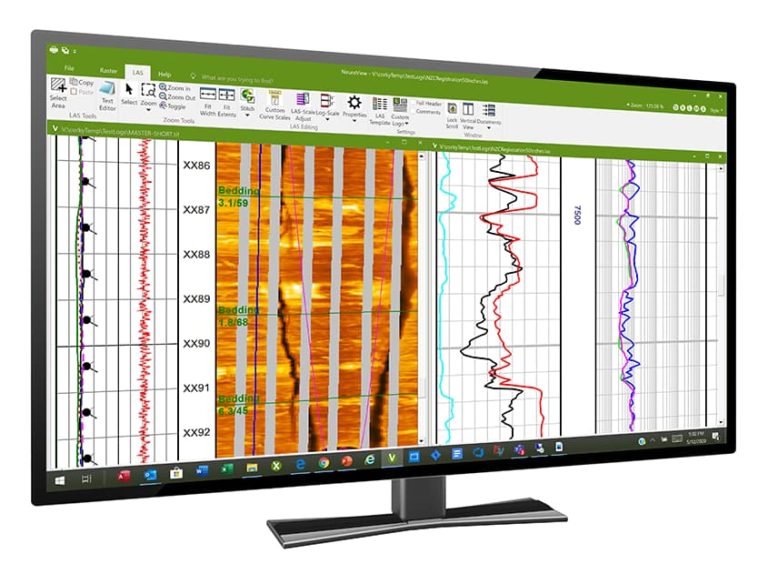 Large documents, such as maps and well logs, require special equipment for scanning and printing and special software to view and manipulate with fast scrolling and zooming.
The need for printing large documents arises as a result of working with and viewing these images. Few desktop publishing and CAD applications have the ability to print large documents. NeuraView was developed as a low-cost solution that can quickly view, scale, crop, and print the large images used in your analysis and digitizing work.

"I recently purchased NeuraView. I have tried a number of image handling software packages and have encountered limitations with all of them – as the page length increased,  the image degraded. I want to thank you for providing a real solution to my large log viewing and printing problem."
Herschel J Cannon, Cannon Digital Services


View
Load and View TIFF and JPG images – color, greyscale, B&W:
Rotate – 90, 180, 270, free rotation
Mirror
Invert B&W images
Turn any colors on/off to convert color to B&W image
Select colors in image or in color bar
Very large images supported
Image Properties View


Load and View LAS (Log ASCII Standard) Well Log Format:
Curve and Track Attributes set with LAS Template
Customizable LAS Scales
Well headers displayed in LAS file
Integrated SendTo Text Editor
LAS Properties View
Log (LE), Scanner (SE) and Network (NE) Versions


Load and View Any Number of Documents Together (TIFF, JPG, LAS):
Scroll and Zoom
Lock Scroll of all open documents together
Zoom All open documents to current Zoom
Tile View and Correlation View to arrange and align open documents
Select and Copy Area to any Windows Application


Enhanced LAS Support
View and edit LAS files.
Full LAS header
Custom Logo
User Templates
Curve fill: solid color or gradient fills


PDF Support
So many times PDF's are delivered in page form with page breaks and can be very difficult to handle.  NeuraView will remove the page breaks and create one continuous log file automatically on open.  No more taping or stitching of files required.
Open and export PDF files
Automatically remove page breaks
Edit
Scan & Print
Specifications
Evaluate and display all available geological data to efficiently present the total play.