E&P Data Access & Visualization

Neuralog Desktop is a right-sized application for data access & visualization. It helps O&G companies with multiple E&P databases and applications drive project results. Shift focus from data search to analysis. Quickly access, visualize, and evaluate company data and manage project progress with ease. Interactively create, edit, organize and view data. Launch scanning, printing, digitizing, and other analysis applications to discover E&P opportunities.
Read more about Neuralog Desktop on our blog: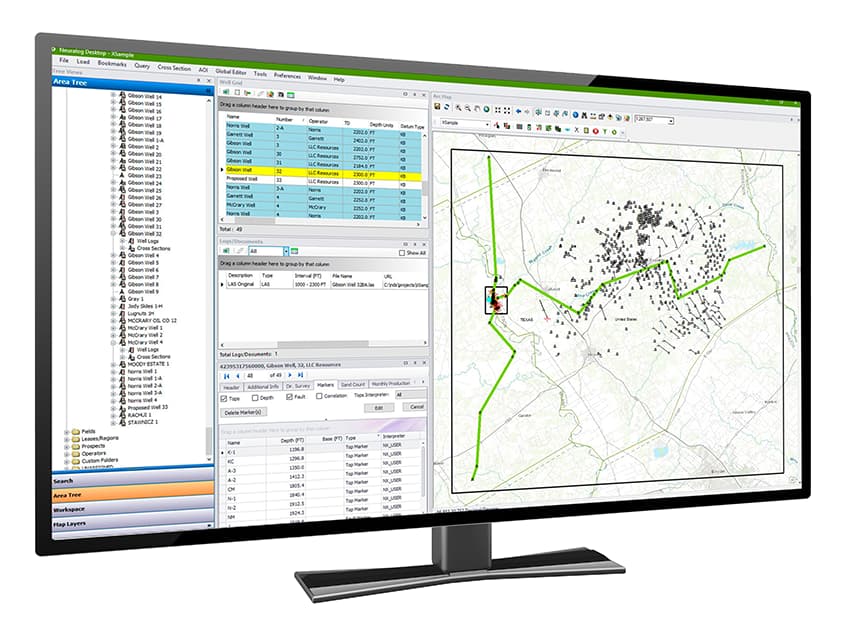 Access & Visualize
Quick Access & Visualization
Desktop utilizes both an Esri-based map interface and area tree navigation to enable users to quickly navigate and access critical documents.
GIS interface with immediate access to project well data
Area Tree display of wells, logs and documents
All project data available for quick analysis and evaluation
Unleash the full power of your ESRI ArcMap by adding the Neuralog Product Suite!
Wells & Documents
Well, Log and Document Management
Simple to use batch and selection loaders make Desktop ideal for the end-user. Users are able to manage tops, well related data (logs, AFE's, reports, production data, etc.), as well as area related data (maps, seismic, field reports, etc.). With SQL Express, SQL Server and Access support, Desktop is a versatile solution which can be implemented and operational immediately.
Easily navigate the map interface for instant access to projects and documents
Conveniently manage all logs, reports, maps and even living source files within SQL or Access
Use the global editor to manage well headers, file paths, surfaces and interpreter information
Ideal GIS-based solution when a full-fledge data management system is not needed
Geological Evaluation
Complete Geological Evaluation
Take your data to the next level with our full Neuralog Product Suite integration. Scan, digitize, interpret and print through the project-based map interface.
Interactively create, evaluate and display geological data in a single application
Correlate logs and create cross sections and contour maps, directly from the GIS map
Capture, edit and save log and map data directly into the project database
Esri ArcMap Add-in
ArcMap Add-In
Create a Geological Toolbox full of interpretation, editing and data capture capabilities directly within your ArcMap install. The ArcMap Add-In is an integrated toolbar within your existing ArcMap implementation. This Add-In is ideal for visualizing and organizing your data. ArcMap license required.
Seamlessly connect Desktop and ArcMap via toolbars
Increase the power of your existing ArcMap infrastructure
Create a complete Geological Toolbox with Interpretation, editing and data capture modules
With the 2020 version of Desktop, users without an ESRI subscription can import well location in any projection and reproject to WGS84 or other geographic coordinate systems.
Specifications