NeuraLog 2022 is the latest release for the world-renowned NeuraLog Digitizing System. If you currently use or have used NeuraLog, upgrade now for the latest improvements to log digitizing workflow productivity. Call 281-240-2525 or email sales@neuralog.com for more information. You don't want to miss out on the latest in well log digitizing or raster calibration workflow improvements.
NeuraLog 2022 includes improvements to tracing algorithms, as well as other workflow enhancements to slice time off your digitizing workflow process. A bird's-eye overview of the entire log now helps users navigate the entire log and not miss multiple log runs. "It's like having the entire paper log on the side of my monitor," says a longtime NeuraLog software user. "Having the entire log visible not only allows you to jump to any place in the log with a single click but prevents the common mistake of overlooking multiple log runs. This could save hours in a typical digitizing project." NeuraLog 2022 users love these latest software improvements.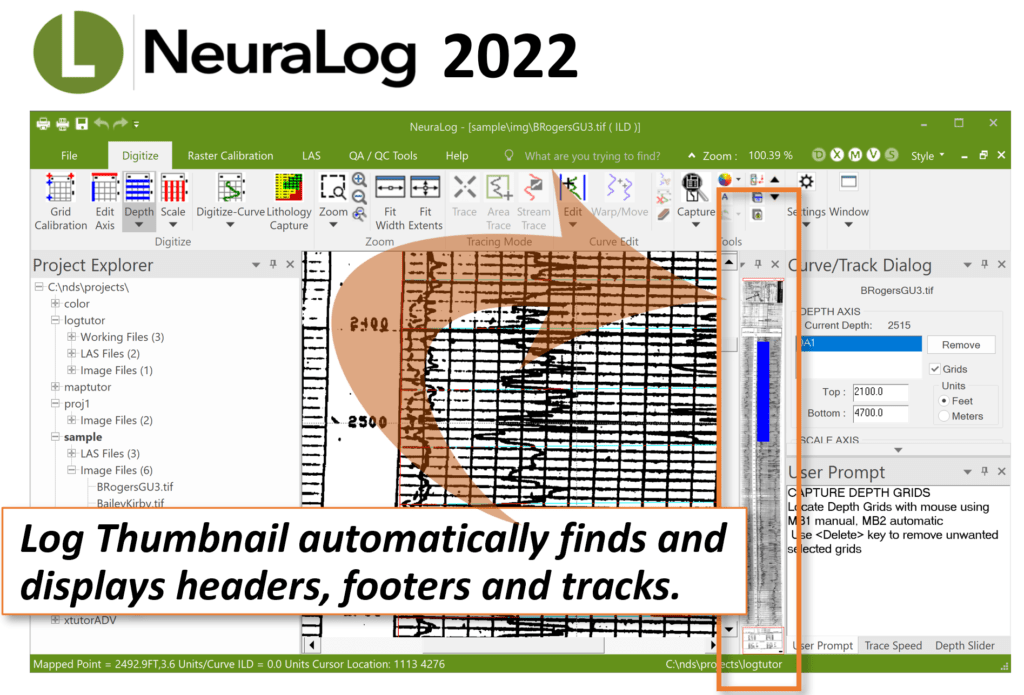 NeuraLog 2022 includes a ribbon interface that can greatly enrich the user experience. While ribbon interface may not seem critical at first glance, users quickly realize how basic productivity is improved since the application ribbon is organized by workflows. These workflows include Digitizing, Raster Calibration, LAS Editing, and Quality Control. All interface items relevant to that workflow are organized in each ribbon.
Finally, the Project Explorer is a must for time-conscious software users. Using a "Windows-like" structure, the Project Explorer organizes files into projects with directories of Working Files, LAS and Images. Even if you are not actively digitizing, the File Explorer can be a huge time saver when it comes to locating a file.