Well Log Navigation and Birdseye View
Welcome to the new NeuraLog; the fastest way to digitize logs just got better.
Well logs are almost always long, making it difficult to navigate through the image. It's easy to get lost in the well log document. NeuraLog now has a way to help you know exactly where you are. The new birdseye view provides a high-precision thumbnail of the entire log, on-screen at all times as you work through your log. Watch our YouTube video to see how easy it is to use NeuraLog's new Birdseye View feature to speed up your log navigation and log digitizing.
Automatic Log Section Identification Speeds Up Log Digitizing
Load a raster well log for digitizing. The birdseye view presents the entire log with sections automatically identified. Multiple runs and tracks are now instantly visible and automatically found, eliminating the chance for costly mistakes like digitizing across multiple runs or missing entire tracks.
Instant Navigation Through the Log Makes Log Digitizing Easy
Click any location in the log thumbnail; you are instantly taken to that spot for digitizing. Log data capture has never been easier. Once you've completed your digitizing, all captured tracks are shown in the thumbnail, and the entire log is visible for instant verification.
Major Workflow Improvement for Log Digitizing Data Capture
Navigating through the log is a major part of well log data capture. It's easy to get lost in your log. NeuraLog's Birdseye view is like a navigation system for your data capture dashboard. Get the latest NeuraLog now to take advantage of this great workflow improvement.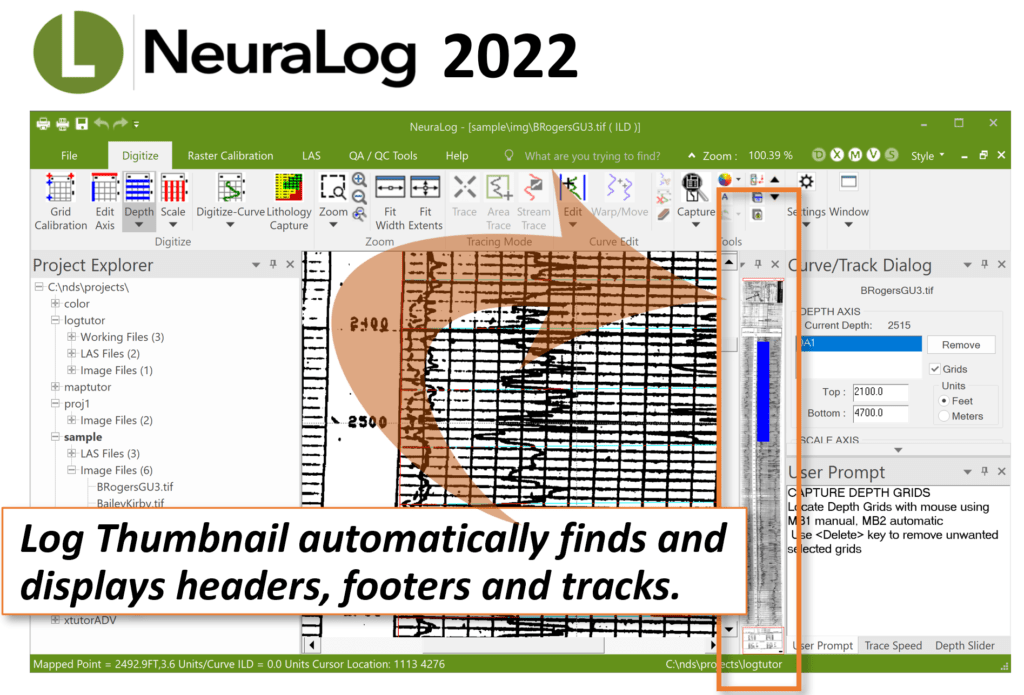 Find out more about NeuraLog automated digitizing at www.neuralog.com. We offer a full range of software products to help with your geological needs. We also have the industry standard equipment for scanning and printing well logs. The NeuraScanner well log scanner has been used around the world to capture well logs. The Callisto well log printer will print any well log up to 12 inches wide, while the Neuralog Z4 laser printer will print standard 8.5″ wide well logs. See all our products in action on our YouTube Channel! Visit our sister company NeuraLabel Printing Solutions for information about your label printing needs.