Neuralog, the worldwide leader in well log scanning, printing, digitizing, and archiving for the petroleum industry will be participating in Summer NAPE 2020. The event is typically held in-person in Houston, Texas but with continued COVID-19 concerns and restrictions, the event will be online. Summer NAPE will be held live August 11-13, 2020 with continued access from August 14-27, 2020. Attendees can log in or register at napeexpo.com/network
NAPE has introduced NAPE Network, a new service to virtually connect attendees across the globe for access to oil and gas prospects/producing properties, education, networking, and dealmaking opportunities. The NAPE Network offers a convenient way for decision-makers and information seekers to strategically interact, form connections, and make deals happen.

We'd all prefer to meet in person but this year is different. Neuralog's virtual exhibit is set up to maximize your time in three easy steps.
1 – Watch the "Welcome to our Virtual Booth" video.
2 – Click the link for our 3D Virtual Demo Room. Here you can interact with all of our software solutions, as well as our NeuraScanner and well log printers.
3 – While you're visiting our virtual booth, you can interact with the built-in networking application. This makes it easy to connect to us. Our representatives will be standing by ready to assist.
Neuralog offers intuitive, efficient, low-cost solutions to capture, organize, and analyze Oil & Gas data. A multi-year exhibitor and supporter of NAPE, Neuralog will be featuring virtual demonstrations of NeuraSection, NeuraLog, and the world's most popular well log scanner, NeuraScanner.
NeuraSection allows you to evaluate and display all available geological data, enabling you to create and present a rounded E&P project. Import from GGX, Petra, and other software programs with NeuraSection, a fit-for-purpose interpretation system.
NeuraLog transforms scanned paper images into usable data, empowering log analysts with greater productivity. The latest version includes a new modern Project Explorer which allows users to more easily navigate between projects and automatically switches toolbar tabs based on the current file type.
NeuraScanner remains the industry-leading solution for well log capture and preservation. It's a high-quality portable scanner designed with a single purpose — scanning well logs and other continuous documents anywhere.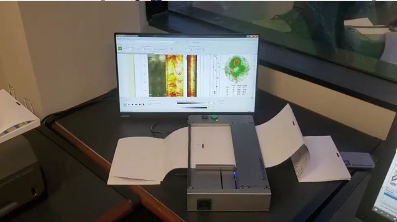 Let us help you find the right solution for your well log digitizing, interpretation, and document management. For more information, or to schedule a demonstration of Neuralog solutions, please contact us at sales@neuralog.com or +1 281-240-2525 x2.