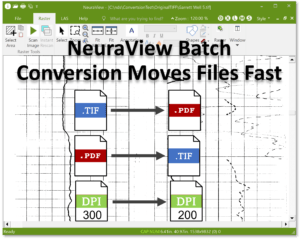 Welcome to the December 2022 NeuraView Release, now with Batch File Conversion to speed up your data prep and increase your productivity.
NeuraView now contains tools for converting groups of well logs and other files from PDF to TIFF, and from TIFF to PDF. NeuraView's file conversion means that files scanned with the NeuraScanner continuous well log scanner in the TIFF format can be instantly converted to PDF. Likewise, any PDF can be converted to TIFF. NeuraView also includes a tool for changing the DPI of any TIFF image.
What does it mean to increase your productivity in file conversion? It means using NeuraView's batch converter to save time with data prep and move on to your real work.
TIFF to PDF

NeuraView's Batch TIFF to PDF converts TIFF images to single and multi-page PDFs. Color, grayscale, or black and white images can be converted. Browse for source and destination directories for quick and easy data processing. Create PDF files ready for standard PDF applications like Adobe Reader and Foxit Reader. Keep in mind that NeuraView will also loads and displays well log PDFs.
PDF to TIFF

NeuraView's Batch PDF to TIFF converts single and multi-page PDFs to TIFF images. Recursive searching options ensure no files are missed. Create TIFF files ready for any well log viewer such as NeuraView.
Change TIFF DPI

Finally, NeuraView can Change the DPI, or resolution, of batches of TIFF images, useful for normalizing groups of well logs for easy data loading. Watch our quick NeuraView video to see highlights for this great new feature. NeuraView Batch Conversion saves you time in data prep so you can get on to your real work.
NeuraView's batch conversion tools are super fast and easy to use. Get the latest NeuraView now if file conversion is part of your workflow. Find out more and get the latest NeuraView at www.neuralog.com.