NeuraView's Instant Rescan is a powerful yet simple tool for cleaning up very large TIFF images that have been scanned in color or grayscale.
Scanned well log images are often difficult to read and use. In addition, the file sizes can be extremely large, making it time-consuming and cumbersome to load into your geological interpretation software. NeuraView is here to help clean up your large TIFF images.
Now that it's time to get to work and use those color or grayscale scanned well log images that you've had for years, you realize that these large files don't quickly load into your analysis software, if they load at all. What seemed to be a good idea at the time, has now created a headache when time is critical and real interpretation work needs to be done.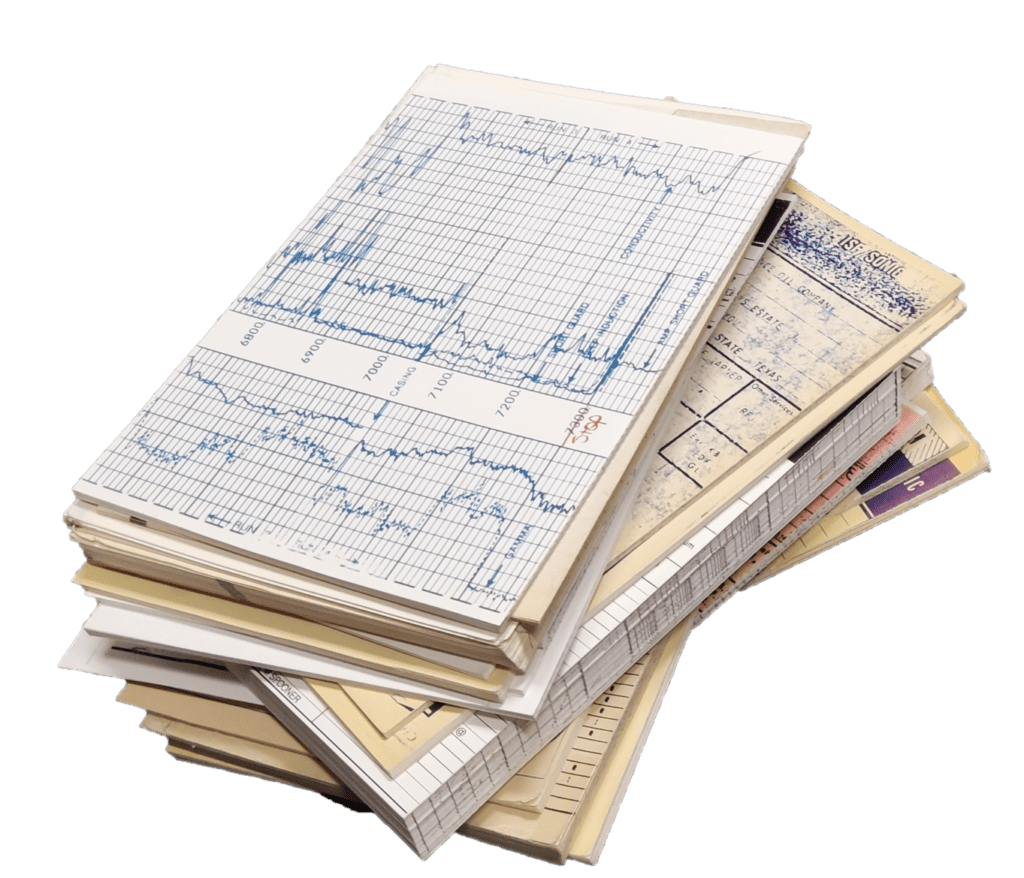 It seems that the answer may be to get out the scanner and rescan the paper log stack into something more usable – that is if you can find the paper log stack.
When your management team decided to archive the company's store of paper well logs, the team thought more must be better. A NeuraScanner or other continuous document scanner was procured, and scanning began. Every possible well log feature was captured by scanning in high resolution and maximum color palette, so that no piece of information would be missed, no matter how small. This scanning effort produced large volumes of huge individual TIFF images, bold, beautiful and big.
Have no fear; NeuraView is here to help. NeuraView's Instant Rescan creates small, readable, crisp black and white TIFFs from color or grayscale scans. Whether your images are faded or marked, unfocused or blurred, or damaged by natural elements, i.e. someone spilled coffee on the paper log before it was scanned, or even if the image files are just too big to load into your application, NeuraView can take those color or grayscale scanned large TIFF images and make them more readable and easier to use.
See it in action on our YouTube Channel…
Difficult to Use Color and GrayScale Large TIFF Images
Below are a few examples of original scanned images. These files are almost always hundreds of megabytes in size and take minutes to load into your analysis software. Often, they are "messy" in appearance and may have a variety of unwanted smudges and smears.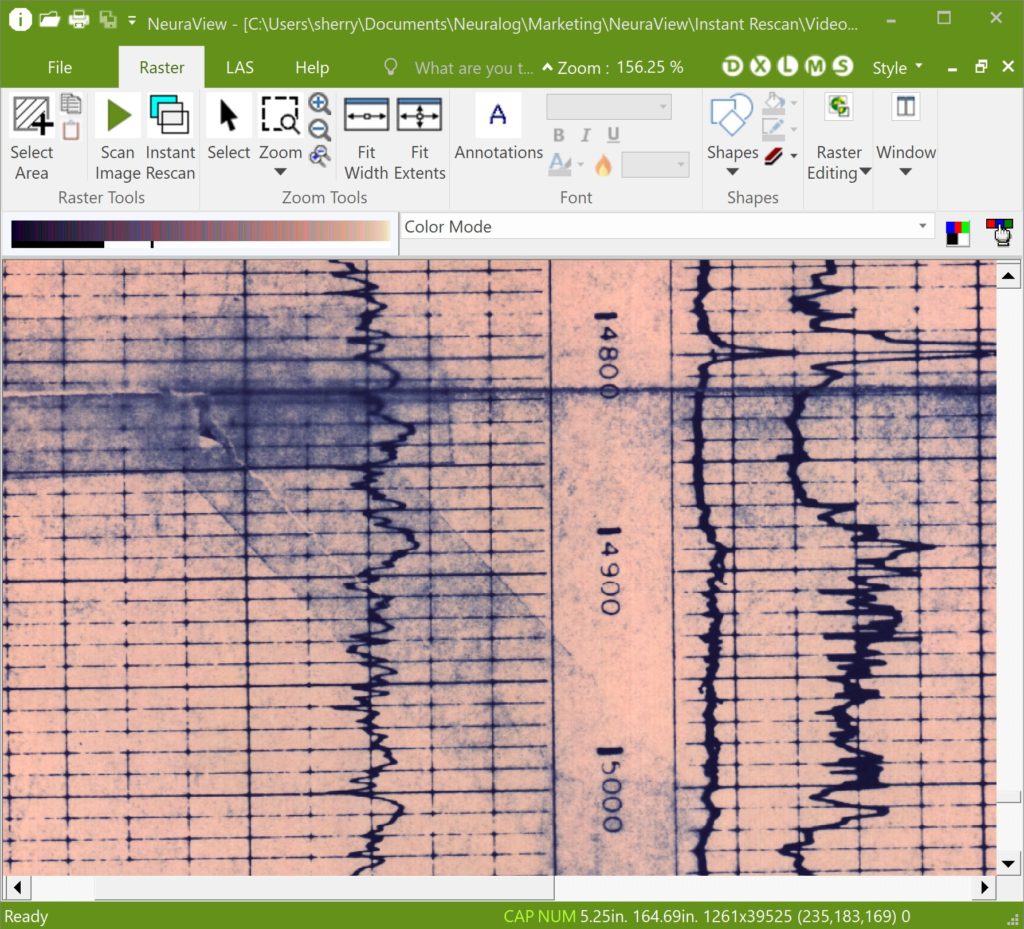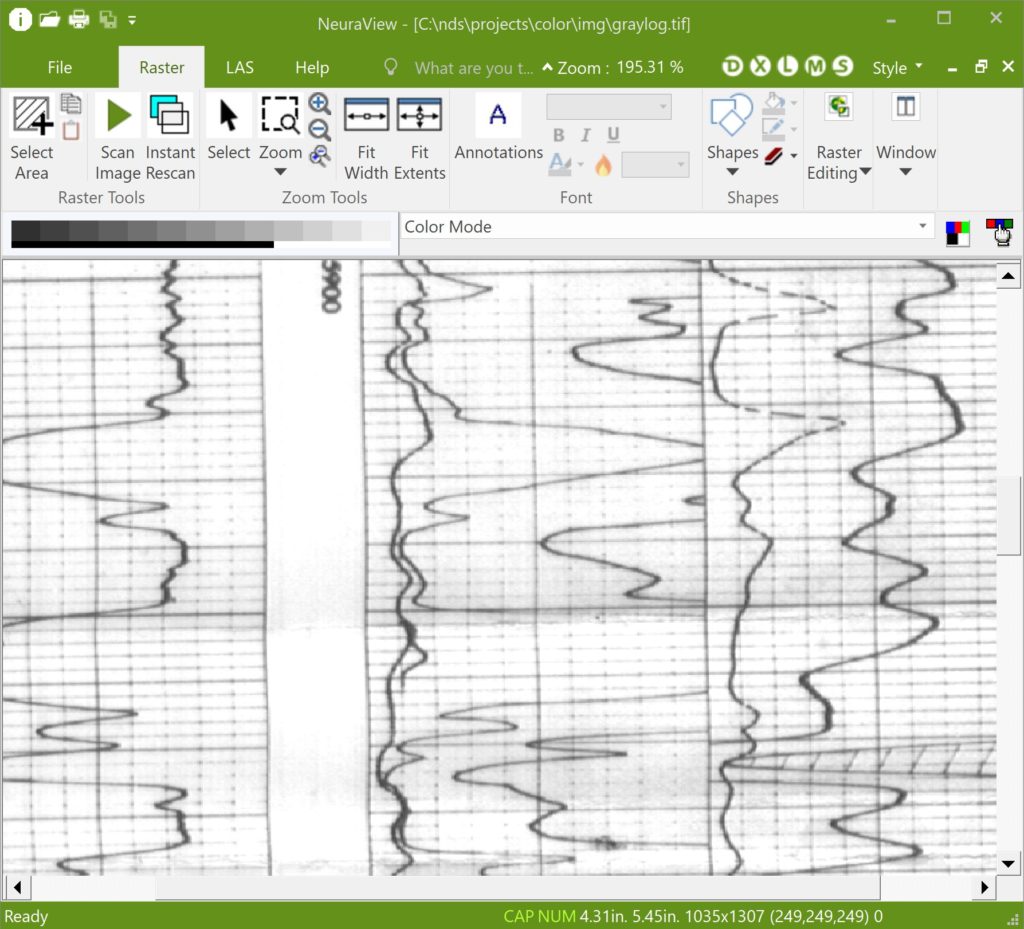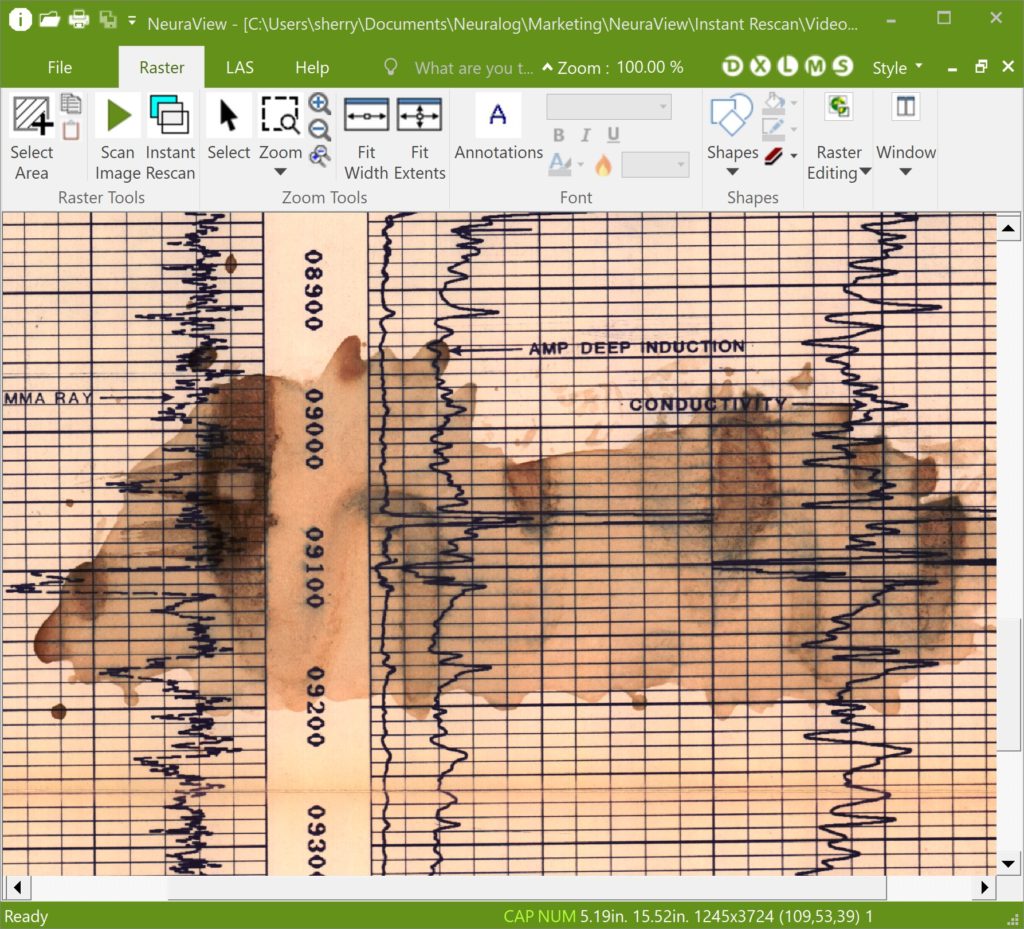 Easy to Use Black and White Images
Here is the same set of logs that have been run through NeuraView's Instant Rescan. Now each file is less than a single megabyte in size and loads into your analysis application in seconds. These black-and-white images contain the same information but in a smaller, cleaner format.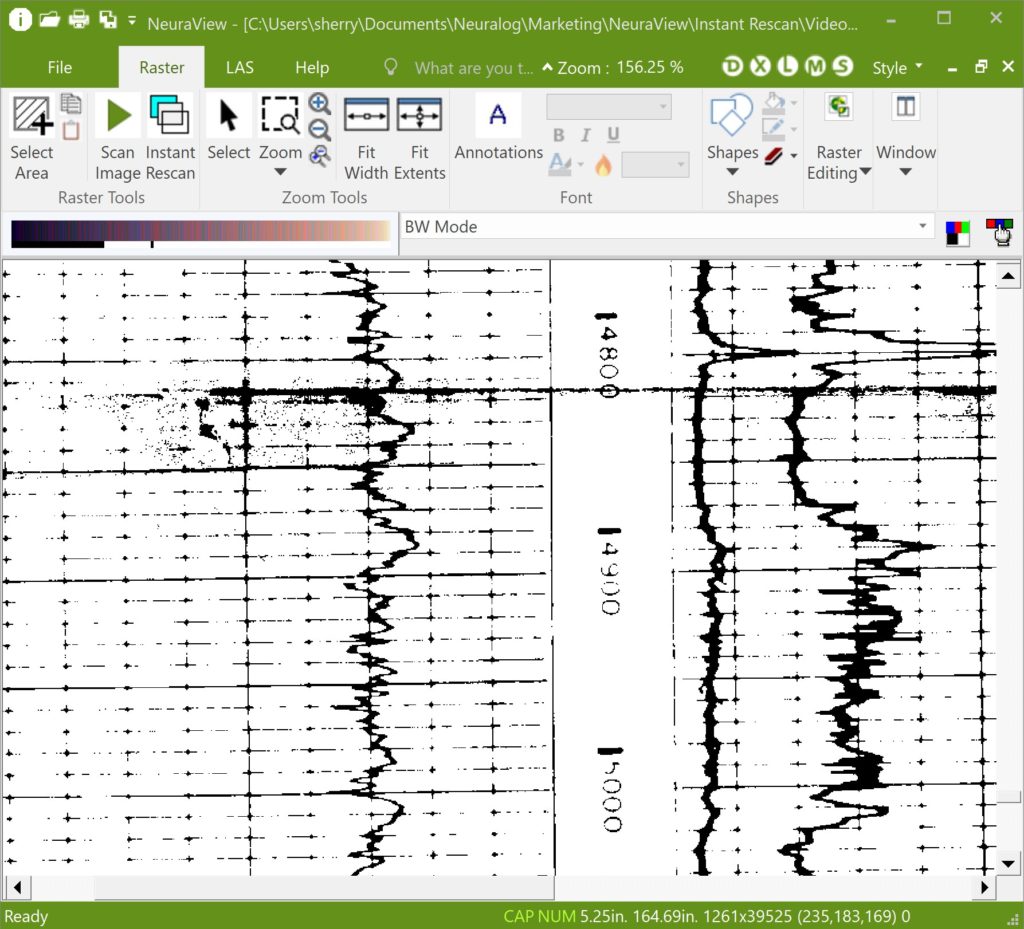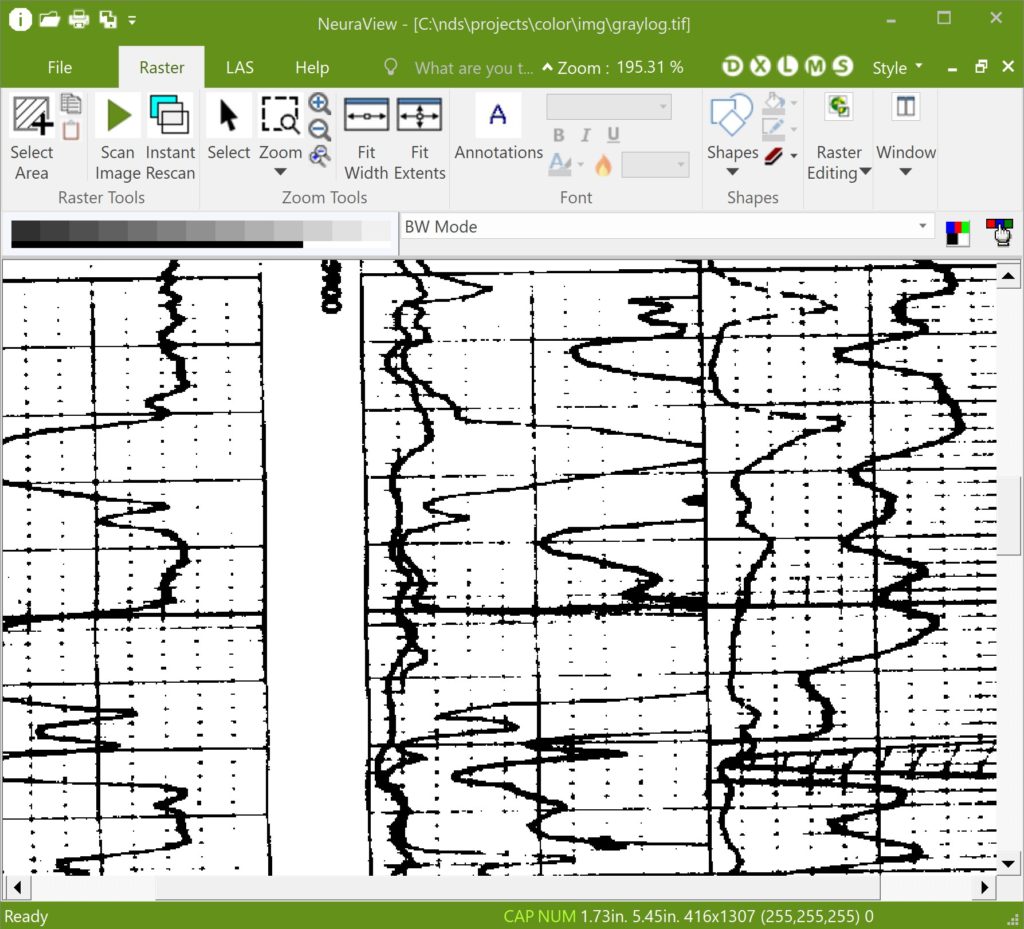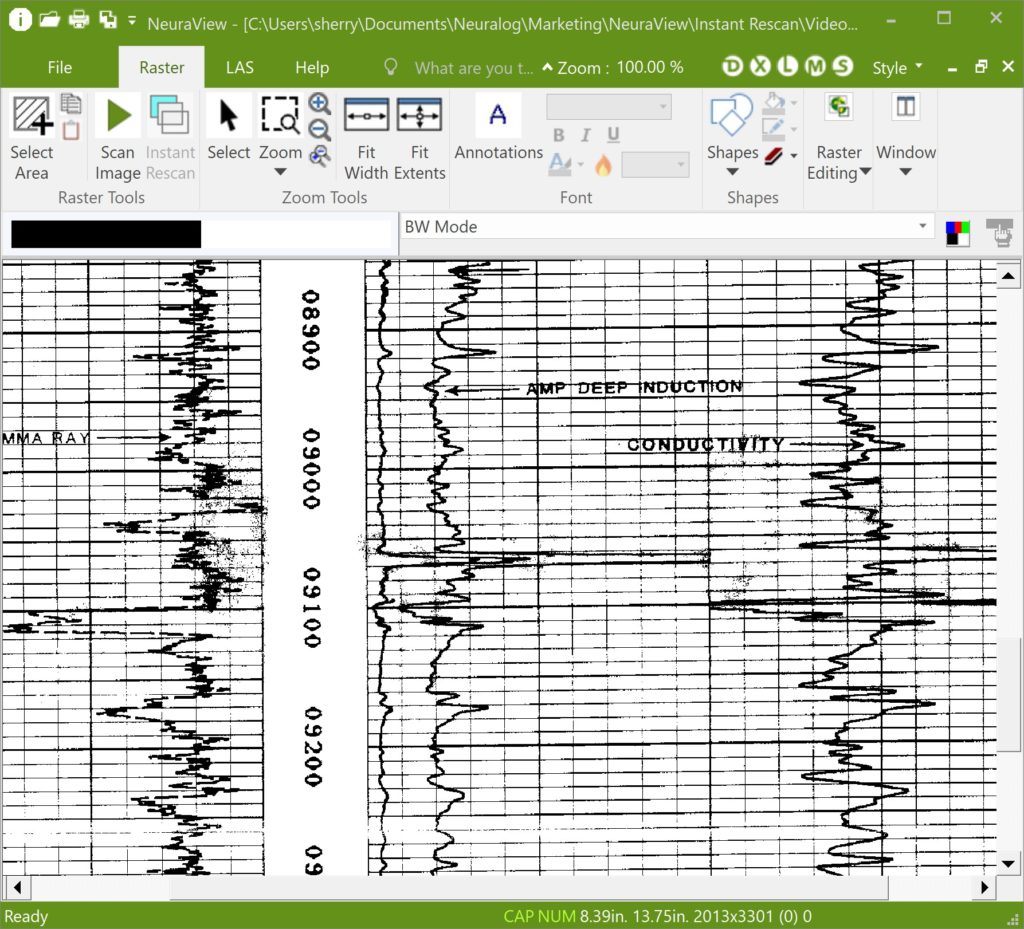 Rescanning with Instant Rescan
NeuraView's Instant Rescan is activated with a single button click. Controls include "play" and "pause" to guide you through rescanning. A brightness/detail slider makes the image darker or lighter and shows more detail accordingly. Features such as grids and text can be made visible on the black-and-white log image.
Even when scanned logs contain both dark and light sections such as fold lines, taped sections, and coffee spills, Instant Rescan can help. Any section of the log image is marked with NeuraView's Instant Rescan selection tools, and that log section is instantly rescanned. The brightness slider is adjusted, and the log is rescanned to generate detail in that section.
Instant Rescan is perfect for cleaning up scanned logs, whether you've scanned with the NeuraScanner or other scanning equipment. It avoids the costly task of rescanning the well logs as black-and-white, if the well logs can even be found. It eliminates the painful wait time of loading huge color logs into your geological analysis application.
Find out more about NeuraView's Instant Rescan and get the latest NeuraView at www.neuralog.com