New Mobile-Responsive Website Provides Easy Access to Product Information and Support
HOUSTON, DECEMBER 1, 2020 – Neuralog, the worldwide leader in well log scanning, printing, digitizing, and archiving technologies for the petroleum industry, today announced the launch of a new mobile-friendly website, at www.neuralog.com, to provide better access to product information and support for its worldwide user community. The updated website has a more modern design delivering new imagery and video content to website visitors searching for solutions for well log data capture, interpretation, management, and access.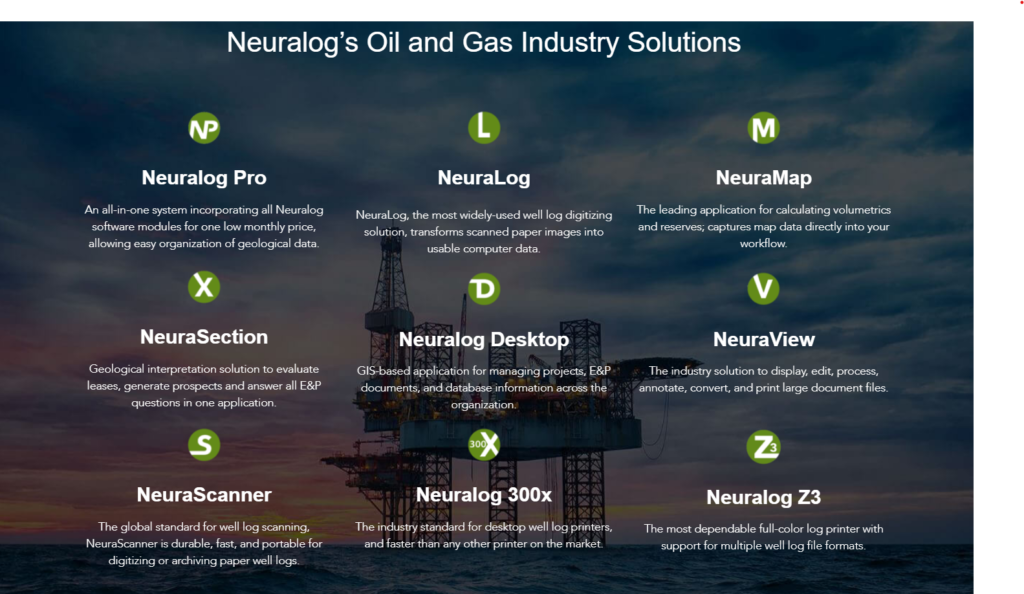 "An update to the website has been on the radar for a while. With the pandemic-driven downturn in the oil and gas industry, the timing was ideal to complete the project." said Rich Witmer, Director of Marketing at Neuralog. "We're proud to launch this new website and believe it meets our goals for a better user experience. Our customers and visitors will love the improved options to quickly contact us, with the modern layout and simpler navigation. We've also added a personal touch by sharing some behind-the-scenes details on our employees and their volunteer participation within our local community."
Familiar areas of the website remain with both the products and workflow sections. The new resources section consolidates the company's recent videos, product sheets, case studies, and webinars. Likewise, the contact information for Neuralog's global sales offices has been elevated to a more prominent position.
Walid Zlitni, CEO of Neuralog partner AZDO Systems Inc. in Libya commented, "Our professional web designer and I had a chance to navigate through Neuralog's new website, and just wanted to say it looks really professional, straight to the point and represents Neuralog very nicely!"
Neuralog's new website will be continually updated with news of product updates, upcoming events, product news, blogs, and corporate milestones. Visitors are encouraged to explore the website and sign up for Neuralog's newsletter for prompt information on product updates and special offers at www.neuralog.com.
About Neuralog
Neuralog is the worldwide leader in well log scanning, printing, digitizing, and archiving technology for the petroleum industry with over 1000 customers in 70 countries. For nearly 30 years, Neuralog has provided a range of low-cost solutions to capture, organize, and analyze Oil and Gas data including the world's only purpose-built well log scanner, best-in-class well log printers, industry-standard automated well log and map digitizing software, the most efficient geology analysis package, and a GIS-based data access and visualization application that work together allowing geoscientists to reach decisions faster based on sound, quality-controlled digital data. Learn more at www.neuralog.com.
Rich Witmer
Director of Marketing
Neuralog
281-240-2525 x167
RWitmer@Neuralog.com
###